https://www.farao-classics.de/english/catalogue/bruckner8_nagano-e.html
最近の自分の中で新たな出発を覚悟しているのか、20年ぶりにはまっている。
ひょっとしてこの曲を聴きはじめた中学時代以来からとすると40年ぶりということになるが50代後半ともなるといろいろ本当に悟り始めたのかもしれない。
勿論、なにも火種がなかったわけではない、ある人からのアドバイスで初稿版をチェックするようにと、、
5年前に出ていたKento Nagano のアルバムを聴いた途端、確かにワーグナー色はあるが、このアンビバレントな世界は現代曲に通じる現代曲ともいえる大変すばらしい演奏・作品だと思った。
この時にこの年になってやっとこの曲の良さが解ったような気がする。
さらにそしてこれまでに聴いた指揮者のディスクをいろいろ再確認したくなっていった。
なんたってブルの8番は真面に20年間聴いたことがなかったのだから。
 Whether I am preparing for a new departure within myself recently, I am caught up in 20 years.

Perhaps it is the first time in 40 years since the junior high school days when I started listening to this song, but it may be that when I was in my late 50s I really began to realize a lot.

Of course, it was not that there were not any kinds of fires, so as to check the original version with some advice from someone ,,,

As soon as I heard Kento Nagano 's album released five years ago, although certainly Wagner color, I thought that this ambivalent world is a very wonderful performance / work that can be said to be a contemporary work that leads to contemporary works.

At this time, I feel like I knew the merit of this work at last this year.

Furthermore, I wanted to reconfirm the conductors' discs heard so far in various ways.
Because Bruckner no.8 has never been heard by me seriously for 20 years.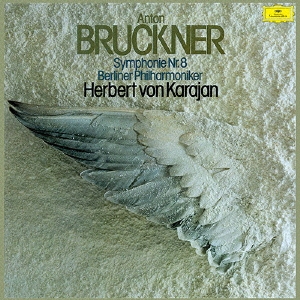 美しいジャケットに付いた帯には『威圧するのではなく共感させてくれます』 と
しかし当時は共感よりも圧倒されてすばらしいと思っていたような、、
それが証拠にしばらくしてブル8からは遠ざかっていた。
次に聴いたのはクナ・ミュンヘンフィル
 Bruckner 8, the first time I heard it, Karajan · Berlin Philharmonic Orchestra
In the belt attached to a beautiful jacket "It does not intimidate you,
but sympathize with you. "
But at the time I was overwhelmed rather than empathy and seemed to be wonderful ,,
It was evident for a while that I was away from Bruckner 8.

Next I listened to Knappertsbusch Munich Philharmonic Orchestra
 これはレコードで買って、CDで出たのを買い、17年前のリマスター盤も買っていた。
最近のタワレコ盤までは手をつけていなかった。
4楽章の独特の解釈は他のどの指揮者にもない彫りが深いものだ。
I bought this at the record, bought out more on CD, and also bought a remaster disc 17 years ago.
But I did not put my hands on the recent Tower Records board.
The unique interpretation of the 4 movement is deep enough not found by any other conductor.
 そして10年程後に現れたのが巷でいいとされたこのヴァント盤
自分自身オーソドックスに纏め上げられたと解釈したこのアルバムと朝比奈盤は聴いたが、、しばらくしてとうとう完全にブル8への思いはまた遠ざかってしまった。
2か月ほど前に今まで聴いたことのないチェリ盤(1990年サントリーホール)を安く手に入れて20年ぶりにブル8を聴いた。
しかし過去に遡った延長上のもので身体に戦慄は走らなかった。
This Wand disc was released in about ten years and it was said that it was good in the street.
I listened to this album and Asahina board etc. which I interpreted as being put together in orthodox, but after a while the thought for Bruckner 8 finally got far away.
About two months ago I got one Celibidache disc (Suntory Hall in 1990) I have never heard before, I listened to Bruckner 8 for the first time in about 20 years.
However,the shudder did not run in my body.because it was an extension on dating back to the past.
過去の名盤とされるものを漁るより
技術的に演奏することが難しいと思う8番の初稿版で新しいディスクが出てくることは今後楽しみにしてもいいのではないか。いつか初稿盤のスコアも買って確認したい。
また自分の知らないブルックナーのすべての初稿版をじっくり確認していきたい。
Rather than catch something that is regarded as a past masterpiece ,,
I think it may be fun to look forward to new discs coming out in the first edition version 8 that I think it is difficult to play technically.
Someday I'd like to purchase and check the score of the original version.
I also want to check all the original version of the Bruckner Symphony that I do not know.